After years of planning, the Nonhuman Rights Project this week filled three landmark lawsuits in New York aimed at releasing four chimpanzees from captivity. The suits are the first actions in a broader strategy dedicated to granting nonhuman animals their own legal rights.
Chimpanzees were selected for the first lawsuits as they are beyond doubt socially and cognitively complex, as well as the closest relative of humans. Dolphins, whales, and elephants were also considered.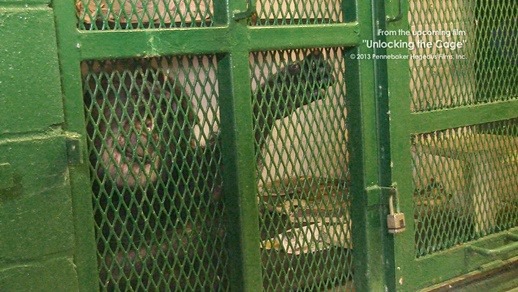 Tommy (Unlocking the Cage)
The chimpanzees are:
Tommy – held in a cement cage in the back of a used trailer lot
Kiko – formerly used in movies and now privately "owned"
Hercules and Leo – held and being used for locomotion research
According to Tommy's lawsuit:
"This petition asks this court to issue a writ recognizing that Tommy is not a legal thing to be possessed by respondents, but rather is a cognitively complex autonomous legal person with the fundamental legal right not to be imprisoned."
Click here for more info about the Nonhuman Rights Project and the lawsuits